"The card seems to be used when transporting chemical materials."
— Inventory description.
The B1 Crane Card is a key item that can be found in Dino Crisis.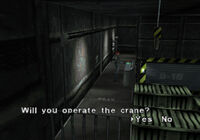 The B1 Crane Card is used to move the crates in the B1 area to get Tom to the Medical Room.
It can be found on the ground near the shelf, inside the elevator power room.
Bibliography
Edit