"?"
— Inventory description
The DDK Code Disc W is an event item that can be found in Dino Crisis.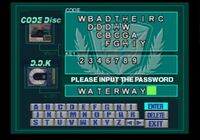 It can be used to release the DDK lock for the entry door to the Disembarkation Immigration Office.
The disc can be found on one of the tables, inside the Stabilizer Design Room.
Bibliography
Edit