"Collect the "Code" disc with the same mark and set both parts into the door."
— Inventory description.
The DDK Input Disc D is an event item that can be found in Dino Crisis.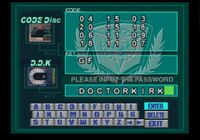 It can be used to release the DDK lock for the Passageway, using both "D" discs.
Beside one of the 3 corpses, at the Large Size Elevator.
Bibliography
Edit