"Collect the "Code" disc with the same mark and set both parts into the door."
— Inventory description.
The DDK Input Disc N (DDK入力ディスク(N), DDK nyūryoku disuku (N)?) is a key item in Dino Crisis.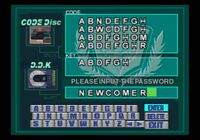 It can be used along with the DDK Code Disc N to release the DDK lock for the entry door to the Elevator Hall.
The DDK Input Disk N is located at the vault inside Chief's Room.
Bibliography
Edit