"It appears to be a panel that can unlock an electronic lock."
— Inventory description.
The Panel Key 2 is an event item that can be found in Dino Crisis.
It is used to open a box in Chief's Room along with the Panel Key 1, which contains the Key Card L. The second half of the password, 037, can be seen upside down in this item.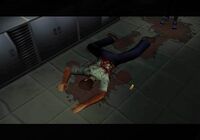 It is located in the Management Office near the corpse.
Bibliography
Edit