"The words "Emergency Case" are carved into it."
— Inventory description.
The Small Size Key is a key item that can be found in Dino Crisis.
Regina must first save the man inside the Gas Experiment Room, then she can pick it up from his corpse.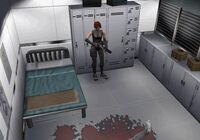 It unlocks one of the two small locked cases in the medical room.
Bibliography
Edit