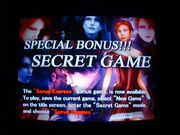 "In this game mode, you operate the Sonya character. Boost speed is doubled, so try completing the game as fast as you can!"
— Official description.
Sonya Express is one of the two "Secret Game" modes for Dino Crisis 3.
It plays just like the normal game, set automatically only at NORMAL difficulty, and adds a timer to the screen.
For this mode, Sonya wears a waitress outfit.